On a cold Saturday Morning, me and my sister went out to see the first snowfall of the Christmas season. The ground was scattered with white fluffy fresh snow. The first thing we did, was roll around and make snow angels. Then we thought about the snow man that we made when we were little. We split up the job, and I started on the base and she started on the two other balls for the middle and the head. Then it was time to decorate it. Here is where the problem began. I wanted to put glasses and a baseball cap on it so that it looked like me. But she wanted to put a head band and sparkles on it so that it looked like her. I was NOT going to let her dress up our snow man like a barbie. I picked up some snow and put it into a tight ball. I aimed for the back of her head. But right as I threw it she turned around. The ball of cold, hard, white snow hit her straight in the nose. Her face turned red with rage and she picked up another snowball but this time….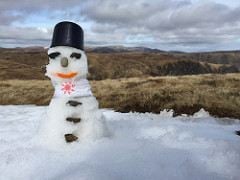 stuant63 Flickr via Compfight cc
That's the beginning of my story. Can any of you write a cool creative ending?
I would LOVE to hear your ideas!
#17stubc       #isdDC9